Cinema Birthday Parties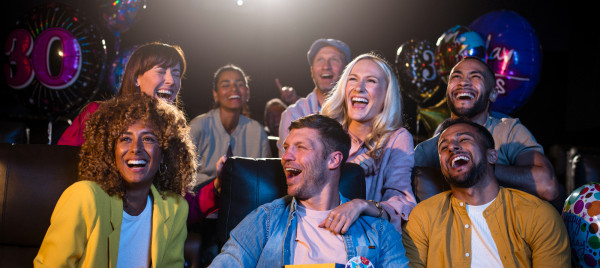 Treat Yourself!
Birthdays are meant to be magical, it's the one day in the year when you and your loved ones should always be celebrated. Why not treat yourself or someone special to a private movie screening birthday party this year? Here at Book The Cinema we want you to have a cinema birthday party that you will always remember, creating long-lasting memories with your family and friends. We believe that everyone deserves to experience the very best on their birthday and have designed our services with that in mind.
Experience something different this year with our private movie screening birthday parties. They have been specifically designed to give you the power to choose the movie and audience as well as to create a personalised 30-second clip that will be played in front of your guests.
Sounds interesting? Start Your Booking Journey Here!
New Experiences!
Birthdays are the perfect time of the year to treat yourself to something special, this year why not experience the cinema like never before? Forget about throwing a traditional party at home, with Book The Cinema we can organise everything and have it there waiting for you on your special day, making you feel truly celebrated.
No need to think about setting up, cooking or cleaning, with Book The Cinema you simply choose what you want including food and drinks and the cinema will have it ready for you. Leave the stress of traditional birthday parties at home and try something exciting and new with us!
From all the birthday party venues available, a cinema birthday party is definitely something worth trying if you want to do something different on your big day! Have a friend or family member you want to make feel special? Why not throw them a private screening birthday party with Book The Cinema? It is guaranteed to put a smile on their face.
Tailored Just For You
At Book The Cinema, we tailor your booking process depending on what theme you choose for your private movie screening. This means if you choose a birthday party as your theme, you will be able to create your very own personalised 30-second clip with a birthday-themed song and background, making the event fully personalised to you! You can also include a special message to your guests that will show up on the clip.
We also have a range of movies including the latest releases and much-loved classics that will be available for you to choose from. You will then be able to decide on the number of guests you would like to join in this magical experience. The screen will be transformed into your very own private room for your birthday party, guaranteeing you and your guest's complete privacy, while you celebrate this important occasion.
Book your private screening birthday party here!
Have Any Questions?
Have a question about booking a private screening birthday party? Take a look at our Frequently Asked Questions Page, where you can find common queries in relation to bookings, tickets, concessions etc. If you can't find the answer you're looking for feel free to contact our team here; Contact Us, they will be more than happy to help.