Rent a Cinema Screen For Fun Nights Out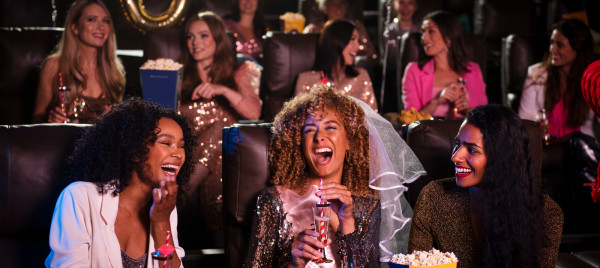 Try Something New
Nights out with friends can be the highlight of your week or something you want to forget, at Book The Cinema we want every night that you experience with us to be a highlight! With a wide range of movies to choose from including the latest blockbusters to loved classics, we've got you covered on movie choices.
With Book The Cinema you can hire the entire cinema screen just for you and your guests. No more assigned seating, you will have the whole screen to yourself! You will also no longer need to queue for concessions, pre-order all you want while creating your booking and have it there waiting for you on the day of your event. We have designed the booking process with you in mind, making it super easy to book your own private cinema screen!
Running out of ideas? Hire A Cinema Screen
Running out of fun night out ideas? Why not book a private cinema screen for you and your friends. Experience the cinema like never before, our goal is to create lasting memories with you that you will always remember. Whether you are looking for girls night out ideas or guys night out ideas, Book The Cinema has you covered!
A Booking For Every Occasion
Our bookings can be tailored depending on your needs and wants, providing a fully personalised experience for you and your friends. Whether you want to plan a girly night out or a lads night out, we can help you. Our services have been designed to help you get the most out of your fun night out at the cinema.
Create Memories
Create memories with a Book The Cinema fun feature that gives you the ability to create a 30-second clip that can be played in front of your friends before your movie starts. The clip can include pictures and videos chosen by you as well as personalised messages written by you. This fun feature will definitely leave a lasting impression on your guests as well as create a special moment between you all.
Start Booking Your Fun Night Out Here!
Have Any Questions?
Have questions about the booking process for your fun night out? Take a look at our Frequently Asked Questions Page, where you can find common queries in relation to bookings, tickets, concessions etc. If you can't find the answer you're looking for feel free to contact our team here; Contact Us, they will be more than happy to help.