Cinema Is Simply Better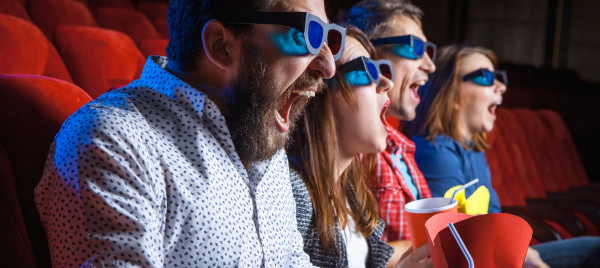 Cinema Is Better, Trust Us
Why is watching a movie in the cinema better than watching it at home? Most people would point at the obvious, at home you deal with a lot more distractions but when you are in the cinema you are able to focus and fully appreciate the movie. The social pressures of not making a lot of noise in the cinema also helps! But most importantly, cinema is the format the filmmaker intended their work to be viewed on. With state of the art sound and projection equipment producing an experience that can never be replicated at home. But that's not all and to fully understand the value of cinema, keep reading.
Book Your Private Cinema Screen Here
Screen Size Matters
First of all screen sizes; and yes they do matter, nothing beats a cinema screen not just in size but also in quality. There is nothing like it! There is also something very powerful about sharing an experience with a group of people, knowing that you all are feeling similar emotions. For example when something funny happens and the whole audience bursts into laughter or when a jump scare catches you off guard and you're not the only one screaming. It feels good to share experiences with others.
Movie Selection
While things have changed a lot lately with movies being released on streaming services simultaneously with theatrical releases due to the pandemic. There is a chance this is only a temporary solution while cinemas are closed. After the pandemic is over we expect distributors will focus on theatrical releases first, allowing you to fully experience the latest releases on the big screen, where they are meant to be watched.
The Right Atmosphere
Nothing beats the immersive cinema experience, the atmosphere in the cinema when the room darkens, the screen is revealed and suddenly you are taken away from the real world. No noise or distractions, just you and the movie. Well, that's how it should be and with Book The Cinema we can guarantee you won't be disturbed by the loud stranger on aisle 3. As you're able to choose exactly who you want to share your movie-watching experience with, be that your family, friends or maybe someone you want to impress. In our opinion renting a cinema screen is definitely a worthy flex.
Book The Cinema
At Book The Cinema we specialise in helping you book private cinema screens. You can also choose exactly who you want to share your unique cinema experience with by inviting friends and family. We have a range of movies from the latest releases to much-loved classics that you pick from. Our goal is to deliver the best cinema experience possible for you and your guests!
Start Your Booking Journey With Us Here
Have Any Questions?
Have a question about booking a private cinema screen? Take a look at our Frequently Asked Questions Page, where you can find common queries in relation to bookings, tickets, concessions etc. If you can't find the answer you're looking for feel free to contact our team here; Contact Us, they will be more than happy to help.