Hire A Cinema Screen For Special Occasions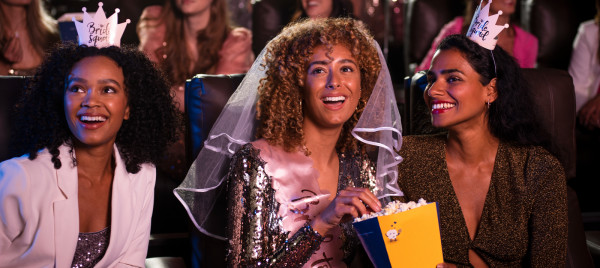 Celebrate In Style
Do something different this year with Book The Cinema, have a special occasion you want to celebrate properly? Why not hire a private cinema screen for just you, your friends and family. Book The Cinema makes it super easy for you to book a private movie screening, guaranteeing you privacy and complete control over who you share your cinema journey with. We want you to experience the magic of cinema all over again with us!
Create long-lasting memories by starting your booking journey with us here!
A Movie For Every Occasion
We pride ourselves on having an extensive film range full of new releases as well as much loved classics. You will never run out of options and will always be able to find something that suits your occasion. Having a wedding anniversary? We have romcoms. Having a stag night? We have action movies. For whatever occasion you want to celebrate, we have the movie.
No Setting Up Or Cleaning Up
A personal favourite, there is no need for you to set up or clean up after your event. Everything will be ready for you as you arrive! You will also not need to deal with queues for concessions either, pre-order everything you need through our booking process and have it there waiting for you on your big day. After the last year, queuing is the last thing on anyone's mind. We want you to have what you want when you want it. Experience a better cinema journey with Book The Cinema.
Create Lasting Memories
Hire a private screen and create special moments with your hand-picked guests, at Book The Cinema we believe in the magic of cinema and want you to experience it fully, that feeling of excitement when the screen widens, the room quietens and suddenly you are presented with a screen full of rich colours and images.
Treat Yourself
After the last year, you definitely deserve a break, while travelling abroad may not be an option at the moment you can always go to your local cinema and do something special.
Book The Cinema doesn't just give you the power to control who you share your special moments with but we have also developed a fun feature in which you can create a 30-second clip that will play before your movie on the big screen. This clip can include a range of photos, videos and personal messages all chosen and written by you! Making your cinema journey even more special.
Book a private cinema screen to celebrate your special day here
Have Any Questions?
Have a question about booking a private cinema screen? Take a look at our Frequently Asked Questions Page, where you can find common queries in relation to bookings, tickets, concessions etc. If you can't find the answer you're looking for feel free to contact our team here; Contact Us, they will be more than happy to help.